Hey Truth Tribers, I got me the hottest ticket on Broadway ⁠— <cue high-pitched voice> ⁠— "Hamilton!"
I believe in manifesting ⁠— from finding parking on packed San Francisco streets to personal and professional desires. I believed I would get "Hamilton" tickets and, voilà! I didn't know how, I just knew I wanted to see one of the biggest shows on Broadway and I wanted to share it with you all somehow. Well, I manifested tickets and scored an interview with the talented, humble and lovely star Arianna Afsar, who plays Eliza Hamilton in the Chicago cast.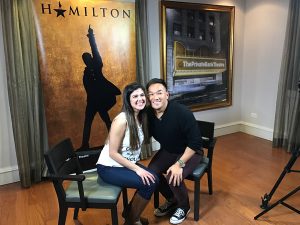 You may have heard or seen Ari 10 years ago when she was a contestant on "American Idol" and sang Corinne Bailey Rae's "Put Your Records On" for her audition. For those of you who have a penchant for pageants, you may also know Ari as Miss California 2010.
What I love so much about Ari is she is straight up and honest about her challenges, the perceived failures after not winning "American Idol" (not being emotionally ready for singing in front of millions of people at age 16), and her other hardships that helped prepare her to take on one of the lead roles in "Hamilton."
Also, find out the truth about how she not only found her voice on the big stage, but how she is using her voice to give back through her work with the ACLU and senior citizens.
If you are in a rut, feel like giving up on your dreams or just need to flex your manifestation muscle, this podcast is for you. Pop some popcorn, pop in those earbuds and devour Episode 6, a FUN, real and inspiring convo filmed at the historic — and might I add magical — PrivateBank Theatre in Chicago!
One more exciting note: I had a gut feeling I had to capture this on camera for the first time in TruthDare history, so I dared myself to experiment with filming the podcast. Watch the magic as she talks about her challenges, growing up multicultural and her path to one of the biggest shows on Broadway.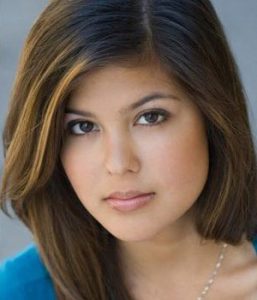 Who: Ari Afsar, singer, actress who stars as Eliza Schuyler Hamilton in the Chicago production of Broadway's "Hamilton: An American Musical."
What is her TRUTH?
"Never be ashamed of who I am and be honest and open with all relationships."
What does she DARE you to do?
"Surround yourself only with those who lift and support you for being you."
Truth be told, before I watched "Hamilton" many people told me, "There so much hype, I hope it lives up to it." Let me tell you, it is a uniquely fabulous, emotional gem of a creation and my eyes were glued to the stage the whole time.
One of my favorite "Hamilton" songs is "Who Lives, Who Dies, Who Tells Your Story."
***CHILLS***
After hearing this song, I couldn't help but reflect and ask myself:
1. T, are you living your truest, best life possible at the present moment?
2. Am I using my superhero power — yes, I believe we all have one — to contribute to the world, so I could leave this planet just a little more beautiful before I exit?
3. Am I being kind to myself even through all the challenges and moments when I haven't yet achieved what I think is my current dream?
How will others tell YOUR story? I want to know. Hit me up on Facebook, Instagram and Twitter (@TruthDareTalk) and dare to share.
For more on Ari Afsar, go to www.ariannaafsar.com or follow her on Instagram and Twitter (@ariannaafsar)
Take Action, I DARE you: Manifesting your dream is like planting a seed, watering it, then putting energy and sunshine on it. So start small and put time into doing what excites you daily or even weekly. The key is to do something. You never know how that flower in you will blossom. Go… Grow!
Thanks for being a part of my story. If you like what you hear, listen to more podcasts at TruthDareTalk.com and share it with your peeps.
-Ready to share your SHARE your TRUTH? Use the SpeakPipe link on our website and share (you can do it anonymously too). We just might share with other #TruthTribers
Trust your Truth, I dare you!
Toan
* Special thanks to Francisco Raposo with Raposo Media, Margaret Raposo, Frank Morales, Anabel Monge, Kevin Lee, Crystal Lee and Amanda Meyer.