Welcome back for Season 2, Truth Tribers!
If you're a new listener, welcome to TruthDare, a truth-telling revolution! This program features intimate interviews with true badasses who are living their true calling to dare you to live your personal, professional and/or spiritual truth.
Exciting news still trickling in from Season 1: Forbes wrote this article about TruthDare and my TRUE American Dream. One of the quotes from the article was selected as Forbes' Quote of the Day.
The show also caught the ear of Stan Lee, a real-life hero who created the world of Marvel superheroes! His team has asked me to host an exciting new podcast called "Stan Lee's Hands of Respect Podcast, Featuring Everyday Heroes." Woo hoo! This news was the light at the end of a very devastating, dark tunnel this summer.
Since we are inspiring a truth-telling movement, I'm going to tell the raw truth about what I've had to endure the past few months.
The truth is, this summer I had to deal with my hardest challenge yet — Chris, my brother-in-law, committed suicide (I can't believe I just typed that). Read more about the details here.
As difficult as it was, through this horrific experience I dared myself to do what I've told others to do when times get really, really, really tough. Accept what it is and focus on being grateful for the blessings in your life. I'm still walking through the foggy grief and going through daily ups and downs, but I am aware there are blessings and miracles every moment I'm here on earth.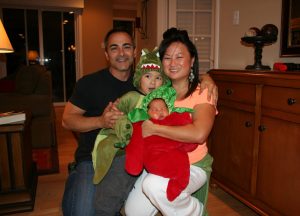 As I processed what happened, I realized Chris didn't see his truth in full color. He didn't see he was a handsome, studly man, a great dad and one of the most beautiful spirits (he was one of the kindest people I've ever met) in human form. The experience made me wonder how many other people don't see their own truths for what they are.
What got me out of this darkness was doing my passion work — talking to people, connecting on a deeper level and telling stories that excite me. My hope, as you listen to this podcast, is you take in that message only you can hear, and take action on that purpose that makes you feel most alive.
This season is filled with more dynamic, truth-telling all-stars who will either inspire you to activate your passion or keep pushing through the challenges of your current endeavors to feel more alive — whether it be a passion project or a promise to do more of what you love.
Last season's roster included a Hollywood filmmaker, an author, a fine arts photographer and stars of the Broadway hits "Hamilton" and "Beautiful: The Carole King Musical."
Season 2 preview
Episode 1 (Oct. 3): Carlos Gaytan, the first Mexican chef to earn a Michelin star — it's all about food, family and faith.
Episode 2 (Oct. 17): Dr. Gladys Ato, a psychologist and author of "The Good Goodbye." I didn't realize there was a good way to say goodbye to things that don't serve me. I say hello, I want to hear more!
Episodes 3 (Oct. 31) and 4 (Nov. 14): Juliet and Kelly Starrett. Juliet is a former lawyer who left her day job for her dream job(s). She is the co-founder and CEO of San Francisco Crossfit, one of the first 25 Crossfit gyms (boxes) in the world, co-founder of MobilityWOD and Stand Up Kids. Dr. Kelly Starrett is a coach, physical therapist, author, speaker and co-founder of San Francisco Crossfit, MobilityWOD and Stand Up Kids.
Stay tuned for the rest of the playlist…
Thank you for lending me your ear and letting me into your life this season. This season is dedicated to my brother-in-law Chris. Love you brother.
-Listen and Subscribe to TruthDare on Google Play and YouTube.
-Ready to share your SHARE your TRUTH? Use the SpeakPipe link on our website and share (you can do it anonymously too). We just might share with other #TruthTribers
-Follow us on Facebook, Twitter and Instagram. @TruthDareTalk #TruthDarePodcast #TruthTribe
Trust YOUR truth, I dare you.
Toan