This episode is all about food, family and faith! Carlos Gaytan, creator of Chicago's fabulous restaurant Mexique is the first Mexican chef to earn a Michelin star. You may also recognize him from Bravo TV's "Top Chef," where he placed fourth out of 19 contestants.
Arriving from Mexico at age 21, Carlos achieved what many would consider his "American Dream" 17 years later with the opening of his own restaurant, Mexique, in 2008. However, severe financial difficulties soon forced him to surrender his ambitions and grapple with shutting down his French-influenced Mexican restaurant. The night before he was due to close up shop, he and his wife fell to their knees and prayed to God, asking for help and a sign about what to do. The very next morning, he got an unexpected call from Michelin that would forever change his life.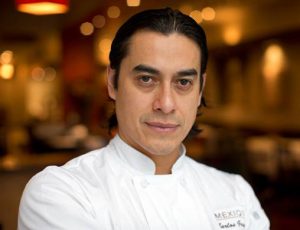 His road to stardom was wrought with challenges, but that didn't stop him from his dream — to move to the U.S. for a better life and to help others. I was surprised by how candid Carlos was as he opened up about his humble roots in Mexico, his journey to America as an illegal immigrant (he became a U.S. citizen in 1998), his faith and why giving back to the community is important to him.
Carlos said he, too, believes we all have superhero powers we should use to live better and be better for ourselves and others. You'll agree with his mantra: he is a hero who doesn't use a cape — he wears an apron. I hope our discussion inspires you to hunger for your inner strength and hold on to your dreams when challenges seem insurmountable.
Cheers to believing!
Toan's Takeaways:
1. Surrendering vs. Giving up. Surrender is doing your best and letting go of any attachments to the outcome. Giving up is being paralyzed by fear about what may unfold. You can't worry about what you can't control.
2. Surround yourself with truth-tellers, people who love you enough to be real with you.
3. Go with the flow: Our dreams are malleable. Be open to people and situations and, yes, even challenges that will help you grow. When difficulties arise, think to yourself, "What is this trying to teach me?" Press on and pivot as the story unfolds. Witnessing and celebrating miracles are the most fun part of the journey.
It's hard to be in a funk when you focus on the things you are grateful for, not the things you don't have. Your dreams, when realized, aren't the end of your journey. Life gifts us with challenges. Don't let them break you. Instead, change your perspective and the story you're telling yourself. Only worry about the things you can control. For Carlos, it was working hard and praying, even when he didn't know what the outcome would be. I love when he said, "Believe, light is around the corner."
Who: Carlos Gaytan — First Mexican Michelin Star Chef
What is his TRUTH?
Believe in God and miracles.
What does he DARE you to do?
"Know that good things are coming. When you are deep, deep in the hole, right around the corner there is going to be a light."
More about Carlos and Mexique: http://www.mexiquechicago.com/
Twitter/Instagram: @MexiqueChicago
We are all about sharing!
-If you like what you hear, please share it with other Truth Tribers who need to hear this message.
-Listen and Subscribe to TruthDare on Google Play and YouTube.
-Ready to share your SHARE your TRUTH? Use the SpeakPipe link on our website and share (you can do it anonymously too). We just might share with other #TruthTribers
-Follow us on Facebook, Twitter and Instagram. @TruthDareTalk #TruthDarePodcast #TruthTribe
Trust your Truth, I dare you.
Toan