Truth Tribers,
I am gonna be honest. I feel a little love doing this podcast. The goal is to inspire you to:
1. Trust your truth
2. Dare to be and live your truth
3. Remind you that you are not alone in your journey (no matter how challenging).
Although I created this podcast for you, our listeners, I can't help but feel selfish because in helping you, I've been helped so much in return. The conversations have been like therapy sessions for me. I guess sharing is caring and when you give, you get so much back. What an "Aha!" moment.
Over the course of doing this "TruthDare" podcast, I opened up the most in this episode. I spoke with Sandi Stuart, an entrepreneur and spiritual badass.
Sandi is one of the first female sales executives in the men's clothing business. She started her career as an outsider, working her way up the ladder to become the executive vice president at Bugle Boy Industries. During her 25-year career, she helped the company grow from $0 to $250 million annually.
She then became the executive VP of another apparel leader, the Cherokee Group and later co-founded Agency Licensing, a company that focuses on what she calls "providing and sharing practical consciousness for women entrepreneurs."
Sandi is a graduate of The Institute of Integrative Body Psychotherapy in L.A., and teaches at the institute in Italy. She coaches clients by leading with her heart to help them explore the delicate relationship between our bodies and emotions.
I first heard about Sandi while interviewing her husband, Hollywood producer, author and podcaster Barnet Bain, for my second episode of TruthDare. I was touched deeply by the way he spoke about his wife and how she affected his career and spiritual life. Intrigued by her professional background and how she balances her spiritual life with a demanding career as a female executive in the fashion world, I listened to an interview with her on her husband's podcast, "Cutting Edge Consciousness."
I loved that she was raw, honest and didn't take any B.S. She actually called out Barnet and his co host during the taping because the energy didn't feel real and for being too "host-y," and made them start over.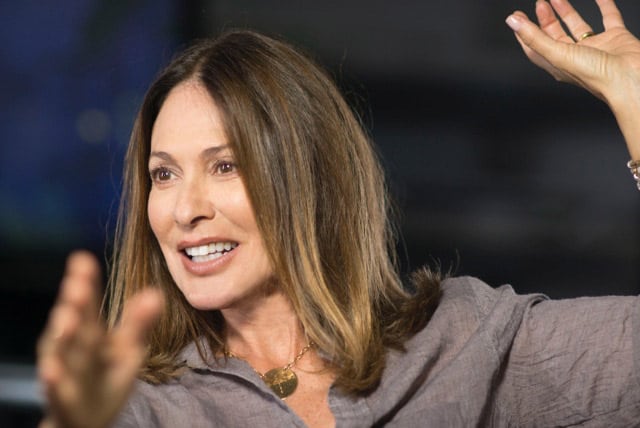 In this podcast, Sandi opens up about what she calls the "theme," or broken record, that plays out in her life, how it shaped her life (both good and bad) and how to delve deeper and recognize the theme that makes and shakes up your story. We also talk about self-betrayal, how you know when you aren't paying attention to your truth and how to fine tune that intuition.
There's no doubt this was like a therapy session for me and got me thinking about why I do what I do. Here's to digging deeper into the True YOU.
More info:
Toan's Takeaways:
1. Sandi said we all have a "theme" that shows up when we abandon ourselves and we're feeling our lowest. My "theme" was I am "fat" and "ugly" because that's what my Mom used to tell me — even though it wasn't true — to keep me from getting a big head. What is your "theme" and what triggers it? How will you tell it "good-bye"?
2. Your body knows when you are betraying yourself. How many times have I been asked to do something at work that was out of alignment with my truth that led to stomachaches, sweaty palms or being fidgety? It's not only about trusting your truth, but being aware of the wisdom of your inner GPS and how your body feels. So if something is making you feeling sick or anxious, it's time to get a truth check.
3. You have to stay curious. If not, things start to crumble. If you're not curious about your partner, the relationship will fizzle. If you're not paying attention to what your audience thinks about your podcast, the listeners will go away. My question to you is, "What are you curious about?" Whatever you're doing that excites you now, are you still curious? If not, it's over.
What is her TRUTH? Always know, without certainty, anything you think you know.
What does he DARE you to do?
Dare to do or be something beyond your speed limit, something that stretches you to discomfort, every day.
***
Learn more:
–www.agencylicensing.com
–www.itswomenswork.net
***
We are all about sharing!
-If you like what you hear, please share it with other Truth Tribers who need to hear this message.
-Listen and Subscribe to TruthDare on Google Play and YouTube.
-Ready to share your SHARE your TRUTH? Use the SpeakPipe link on our website and share (you can do it anonymously too). We just might share with other #TruthTribers
-Follow us on Facebook, Twitter and Instagram. @TruthDareTalk #TruthDarePodcast #TruthTribe
Trust your Truth, I dare you!
Toan